Natural Rock Memorials - Boulders
Natural stone headstones
Influenced by ancient and contemporary European monumental design, Carl Hughes of Meadowlark Memorials offers beautifully honed natural stone headstones.
Designing unique pieces of monumental art is made possible using ancient and modern monumental skills. Bronze sculptures: handmade glass figures have all been made by talented local artists. It is an exciting design concept that is only limited by imagination.
If you have a design for a memorial boulder, please share it with us. We can create a detailed color rendering of the desired stone.
Local Materials
The Materials used to sculpt our artistic memorials are quarried in Squamish BC. The bronze fine art subjects are designed by local sculpture and cast by a local Bronze works company.
As the materials are quarried locally, they naturally blend into the environment at the burial park. A meaningful testament to express one's beliefs or interest with irreplaceable beauty.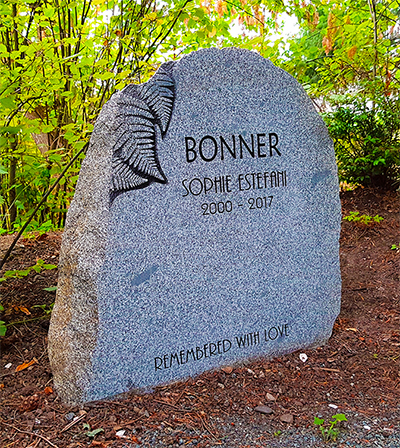 Round Granite Memorials Boulder 
The large face of these boulders offers numerous design choices.They can be used for single or family memorials. Ideal for the natural forest memorial areas. Quarried in British Columbia. Granite benches are available which act as a great functional feature to any burial plot. Click here for memorial bench options.
Sizes vary up to 44'' tall.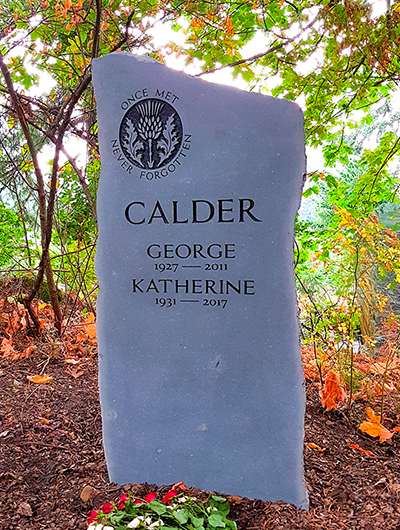 Natural Basalt Memorial Boulders
These all-natural basalt memorials feature a smooth front and natural rock back and sides. These memorials require installation on a  concrete or granite foundation. Depending on the stone size, these memorials can be used for a single or family memorial. Ideal for the woodland memorial areas in green burial settings. Sizes vary up to 44'' tall. Matching basalt memorial benches are available which act as a great functional feature to any burial plot.
A Brief History of Green Burial
In the early 1990's England had a 98% cremation rate. Environmental concerns around carbon fuel consumption and carbon emissions were becoming a concern in the context of the UK's contribution to local and global climate change.
At the same time, some of England's most untouched and scenic natural landscapes were becoming prey by developers. Preservationists were seeking a way to preserve some of these natural areas.
A green burial would over cremation's effect on the environment and help land conservation.
Green burials would protect these sites from disturbance, in perpetuity.
Since those early days, green burial has been broadly adopted throughout the UK.
Green burial cemeteries have also expanded to the USA and Canada with green cemeteries located across the states.
In 2008 Canada's first green burial site was opened in Royal Oak Burial Park in Victoria, B.C. Since then a small number of other cemeteries in Canada have green burial available in their communities.