Cemetery Vases
Cemetery Vases
Meadowlark's cemetery flower vases are available in a broad range of colors and finishes to compliment any style memorial. From the antiqued finishes to the exclusive granite- matched Colors each vase is as elegant and stylish as the next. Meadowlark has a vase to compliment any memorial creating a lasting tribute as unique as the individual it memorializes.
wide selection of style and colors
Die-cast aluminum construction
Exterior durability
Securely fasten to memorial
Removable
▪     Flush Ground vase system convenient way of meeting cemetery regulations
A wide range of Granite Vases are also Available. Please contact us for more information.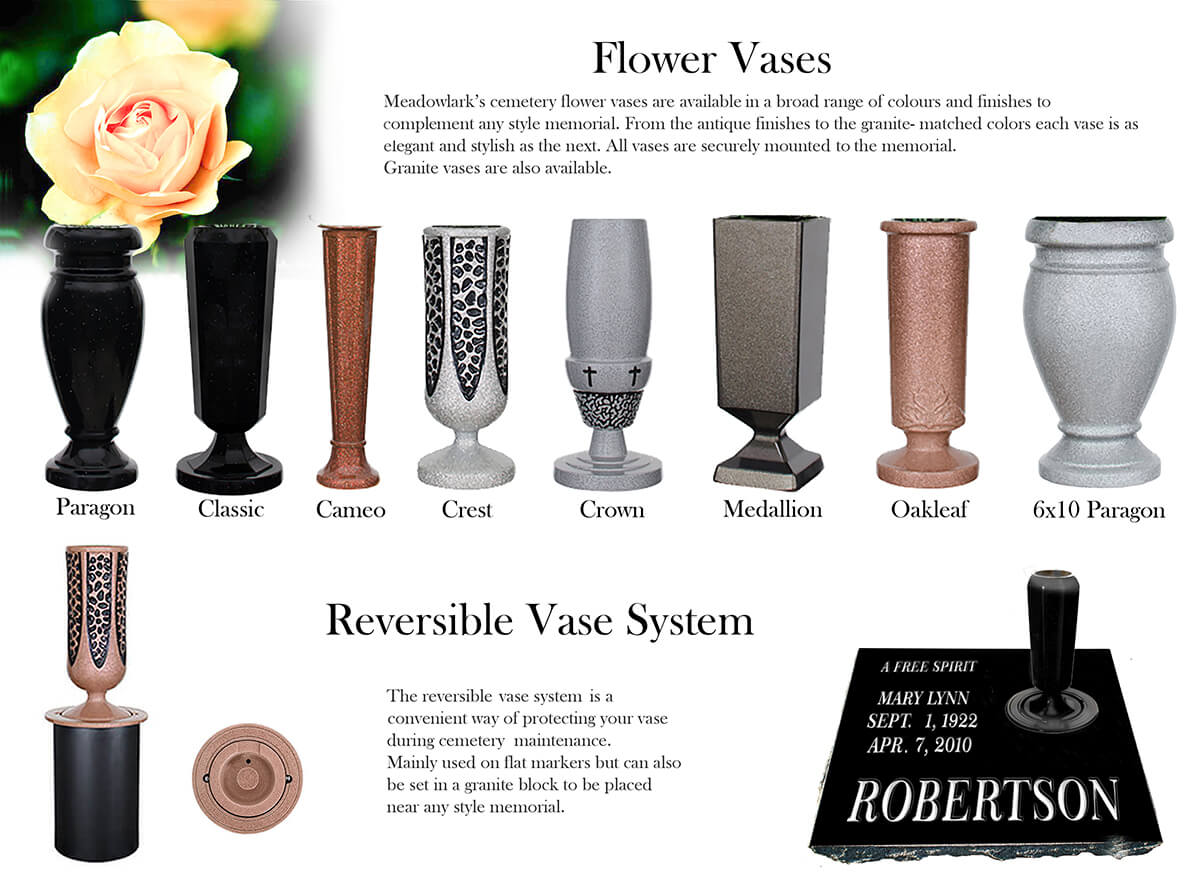 Cemetery vase name and product description
Cameo Vase   Vase-Size: 10″ x 2 7/8″
The Cameo Cemetery vase is one of the most popular cemetery vases. The fluted edging provides texture that is carved out through quality craftsmanship. The slender design strikingly complements our smaller monuments, or those with a base extension, without over-powering the memorial.
Crest Vase     Vase size: 9 5/8″ x 3 7/8″
The Crest features antiqued panels and pebble texture which combines to create a unique tribute. With the Crest cemetery vase, your memorial will truly capture the unique spirit of the individual.
Paragon Cemetery Vase-Size: 10″ x 4″
The Paragon's beauty lies in its traditional curvatures and ornamental edges. The paragon preserved the integrity of granite fashioning while assuring the consistency of size and shape. By employing die-cast aluminum technology, the Paragon vase delivers durability that granite vases can't match.
Regal      Vase Size10″ x 3 7/8″
The Regal Cemetery Vase offers a modern design with traditional styling. Available in two styles, with or without a cross. The Regal can be ordered for upright memorial monuments, or for Flush grave markers.
Medallion    Vase Size 9 5/8″ x 3 1/2″
The Medallion serves as a reminder of what was held dear in life. The medallions square design enhances it beauty and offers an optional emblem. Honoring religious beliefs, military duty, parental roles and other important affiliations, the emblems are stylishly crafted out of a variety of durable materials.
Crown Vase-Size: 11 1/4″ x 4 7/8″
The Crown is one of the larger Headstone vases. With its touch of Christian symbolism, the Crown generates an air of respect around the memorial. A subtle band featuring distinct etchings, highlight the complex designs of the lower vase which lead to a wide base.
Classic Vase Size 1 1/4″ x 4 7/8″
Timeless splendor and lasting power, the Classic is the most stylish cemetery vases. It has an eight-sided shape enhanced by carefully beveled edges that create an appearance of enduring elegance. Celebrate life's simple pleasures with the ideal large vase for large headstones.
6×10 Paragon    Vase-Size: 10″ x 6
The 6×10 paragon vase remains unmatched in style and substance. The traditional lines that made this vase so popular and expanded them. The 6×10 is designed to accompaniment larger memorials applications and contemporary designs.
Please Contact Meadowlark Memorials for questions you have regarding cemetery Vases. Before purchasing a vase, you should always check those cemetery regulations allow vases in that section of the cemetery.
Granite Vases are also available. Please contact us for more information.