On-Site Headstone Engraving Services
 
Meadowlark Memorials is one of the only memorial companies in British Columbia that offers on-site headstone engraving services. This allows us to engrave names, dates, epitaphs or any other inscriptions to an existing gravestone in the cemetery. Services Include;
NOW SERVICING FROM VICTORIA TO PORT HARDY
Engraving names or dates.
Engraving additional designs (e.g.) Flowers or emblems.
Adding addition poems or Epitaphs.
Adding a porcelain portraits.
Adding memorial accessories (e.g.) Cemetery vases or Memorial Lighting.
Completing the inscriptions on-site gives families peace of mind that their headstone will not be disturbed or damaged, most importantly the memorial is there when they need it most.
One of the biggest benefits of our on-site engraving services is our prompt service. If it is important to the family, we may be able to have inscriptions added before funeral services. Call today to arrange this service.
For more information or to request a price list regarding our on-site headstone engraving services, please contact us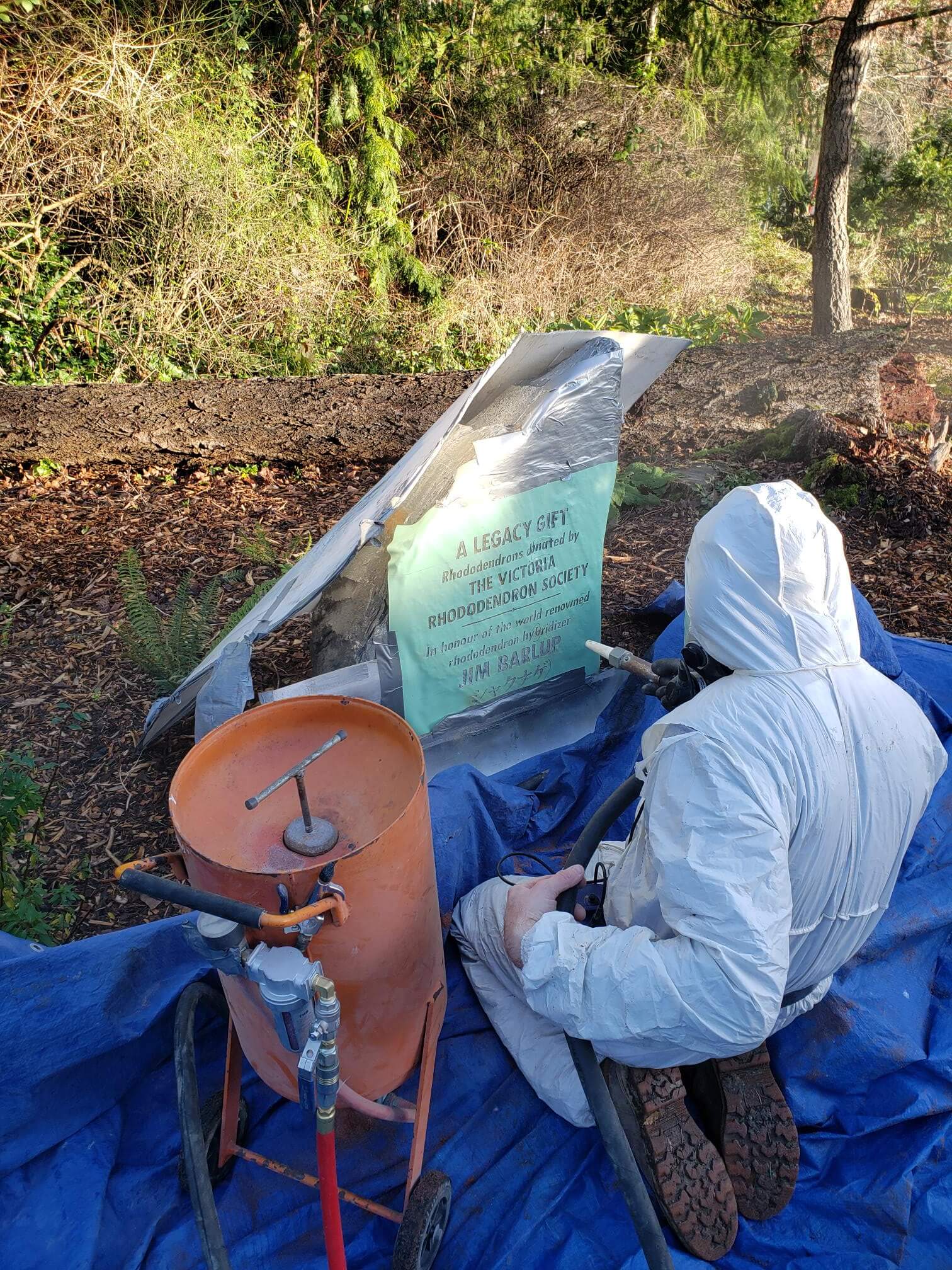 Meadowlark Memorials now offers a 48-hour cemetery memorial engraving service. If it is important to your family to have secondary inscriptions added to a memorial before funeral services, please contact us today.
Before and after pictures
Below are before and after pictures of memorials that have had secondary engravings added.
Customer Testimonals
Nathan F, Nanaimo, Bc
Great service, very helpful. Restored two of our families' grave markers to look like new again. Thank you Meadowlark Memorials.
Thank you, we are very happy to hear that you are happy with the restoration work. Kindest Regards
Carl Hughes
Meadowlark Memorials
Ceri T. Victoria, bc
Superb craftsmanship and all around service exceeded expectations on every front.
Thank you for your kind words. We are delighted that you were happy with the memorial. It is truly a unique monument. Thank you for choosing Meadowlark Memorials.
Carl Hughes
Meadowlark Memorials
Linda W, Nanaimo, Bc
Excellent company to deal with. Meadowlark Memorials offers a wide range of services. The mobile added-inscription unit allows the monument to remain in the cemetery when the future date will be added.
We are very happy to hear that you were happy with our On-site Engraving services.
Carl Hughes
Meadowlark Memorials
Terminology
Altar tomb – A dense, usually rectangular, raised crypt or graver Marker similar to ceremonial altars of classical ancient times and Christian ritual.
Bevel marker – Usually rectangular in shape, set low to the ground. The back of the stone is higher than the front.
Burial, primary – a burial where the deceased is placed on the grave shortly after death. Primary burial is the most common burial in most modern churchyard traditions.
Burial, secondary – a burial where the body has spent substantial time (sometimes many years) in a temporary grave, before moving to its last resting place. urn – the burial of an urn with
Cairn – a mound of stones. Cairns can be placed over graves as markers, as a means to support large crosses or other standing markers.
Cemetery – a place where more than one body has been interred, especially (but not necessarily) with grave markers. The criteria for what constitutes a cemetery has differed between governing bodies.
Cenotaph – a grave within a cemetery where the deceased is not present. A cenotaph can resemble any other grave in terms of gravestone types and inscriptions. Cenotaphs often honor lost at sea, in war, or when transporting the body was not an option.
Centerpiece – Often a sculpture or other monument type, usually placed in the center of a Cemetery. The centerpiece is for the benefit of all buried there.
Coffin – a box that usually measures 84 inches; width 28 inches, and height 23 inches. for placing a body at burial, usually made of metal, wood or concrete