Memorial and Masonry Preservation
Carl Hughes of Meadowlark Memorials has had unique training in the preservation of historic gravestones and masonry structures. The combined skill and extensive experience in preservation has given Carl the opportunity to work in nearly every aspect of Monumental Preservation. Our Services include;
Re-erecting Fallen or broken memorials structures.
Structural repair of lost stone or stone elements and custom mortars.
Re-leveling of small or large memorials or masonry structures
Cemetery assessment with individual stone evaluation.
Replacement of damaged foundations
Moss and lichen removal and prevention
Stain removal
Replacing lost or broken lead lettering
Deeper engraving of unreadable inscriptions
Risk evaluation (detect unsafe gravestones) for cemetery insurance.
For more information about our gravestone preservation services, please contact us.
For examples of gravestone cleaning and preservation work, please view our preservation portfolio below.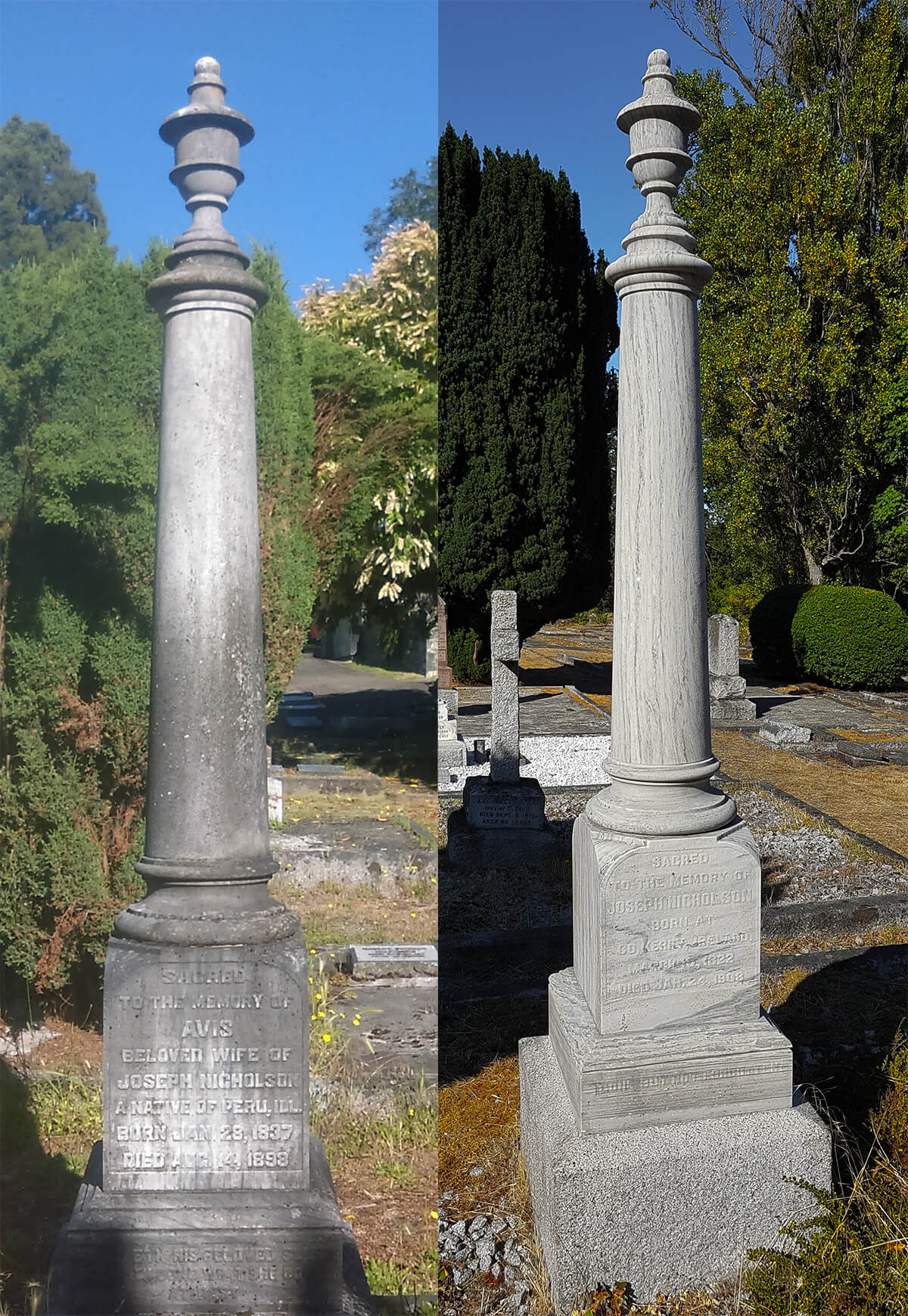 Marble Preservation
Marble Preservation
Illustrated above is the before and after cleaning process of a historic marble memorial.
The cleaning process we use has proven to be the most effective and safest way to clean and preserve historic memorials. This technique has the longest lasting results and causes no damage to memorials. Improper cleaning methods are usually the main cause of damage to cemetery memorials.
Preservation of Memorials
Although some modern monument companies claim to offer monument restoration and preservation. Most use Inappropriate cleaning methods. Some will even sandblast historic stones to quickly make an old weathered marble stone look white again.
Sandblasting removes a protective layer opening the pores of the stone. This is usually detrimental to the stone.
Many old marble headstones have very lightly engraved inscriptions. Sandblasting over these inscriptions will ruin the design, making an old weathered stone even more weathered.
The desire to make things look like new is common but not realistic. Making a historic memorial look new again is not what we are trying to achieve.
The principle of Headstone preservation is to do no harm. Our aim is to Leave the grave site improved but not a Micky mouse version of what it once was.
Reasons and Methods
The memorials within Shaded areas of cemeteries are likely to have higher fungal growth than that of the memorials within the sunnier parts.
Growth effects on memorials
Micro organisms
Bacteria Can cause stone loss
Fungi can change the visual appearance of the stone
Algae's provide the most visual changes
Other types of Damage
Salt Damage
Freeze and thaw cycles
Improper cleaning
Vandalism
Preservation Methods
Use the gentlest least invasive method
Consider long term effects
Minimize cleaning methods
DO NOT remove original surface
Cleaning known to damage stone
Bleach and bleach like products
Strong acids or bases
Power tools
Pressure washing