Commercial or residential signs
In addition to designing and manufacturing custom grave markers, Meadowlark Memorials also creates striking house & address signs for any situation or location. Whether it be for a small or large corporate business, place of worship, apartment complex, public park, golf course, cemetery and more.
Meadowlark Memorials can help create a sign that will rightfully represent your organization. Furthermore, our signs are made to withstand weathering effects. Most noteworthy is that our signs feature a timeless design that conveys precise information.
Another service we offer is on-site engraving. Our fully equipped engraving unit allows us to engrave boulders and signs right on-site. Please call for more information regarding on-site engraving services.
If you have a boulder that needs engraving, please contact us today to arrange our on-site engraving service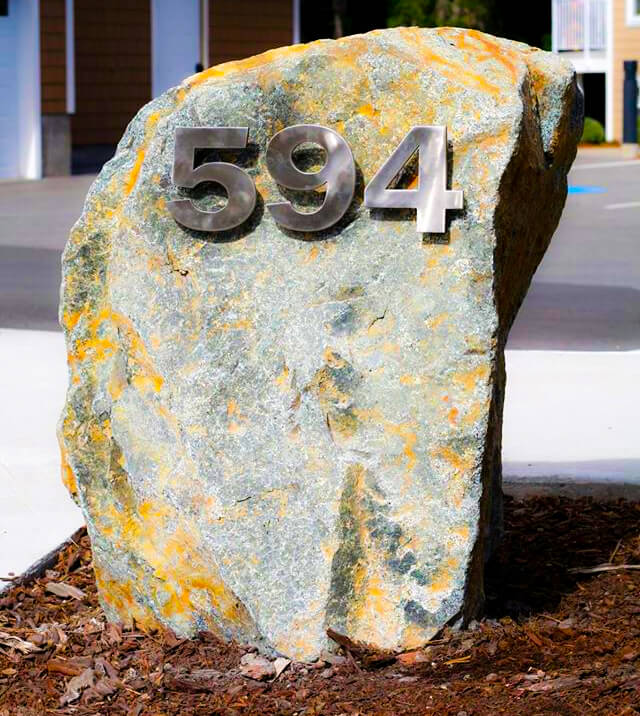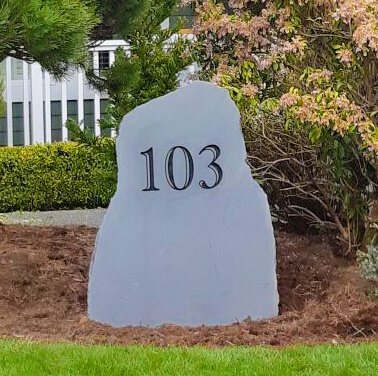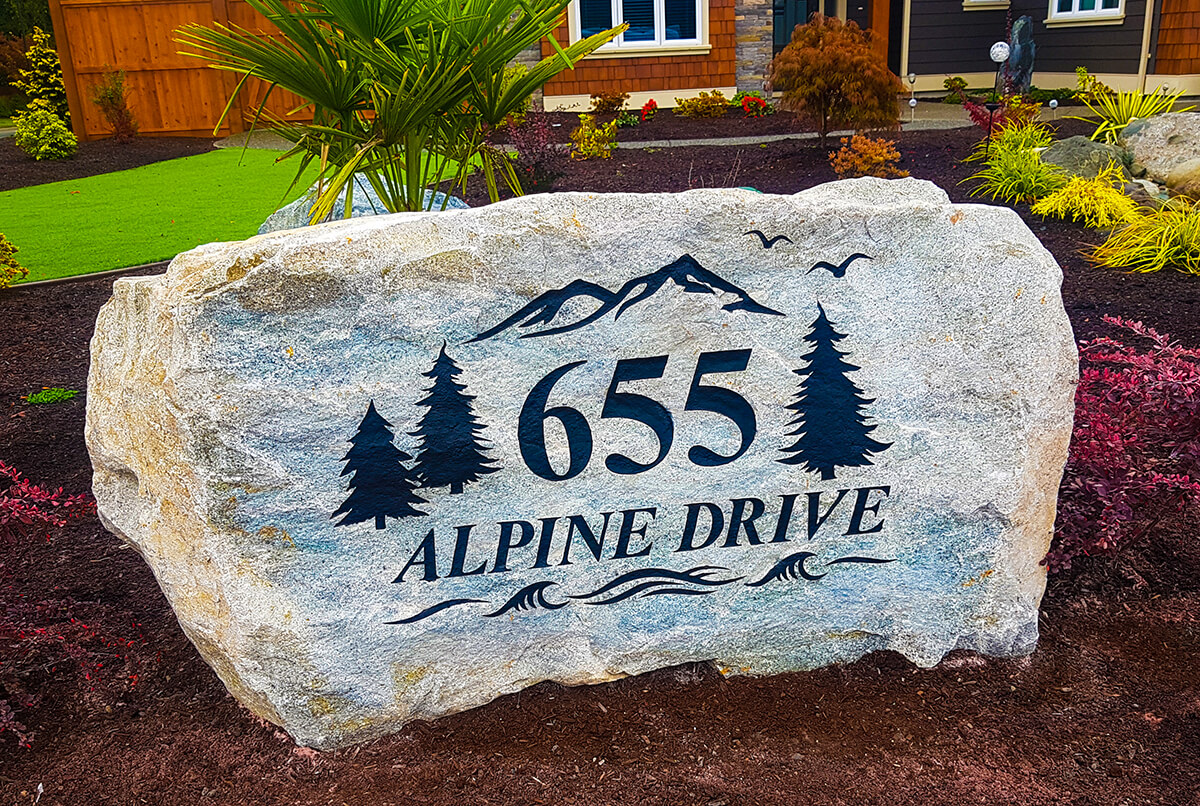 Sign Materials
House & Address Signs
What materials do we use for our signs?
Our house & address signs are usually made from granite or wood. Black polished granite boosts a stylish and modern look and offers the best contrast for complex designs.
Home address boulders are usually made from basalt or granite. The local materials and rugged shapes make this style of sign blend into its natural setting.
Do not hesitate to contact Meadowlark Memorials and start designing a sign for your business, home or other organization today.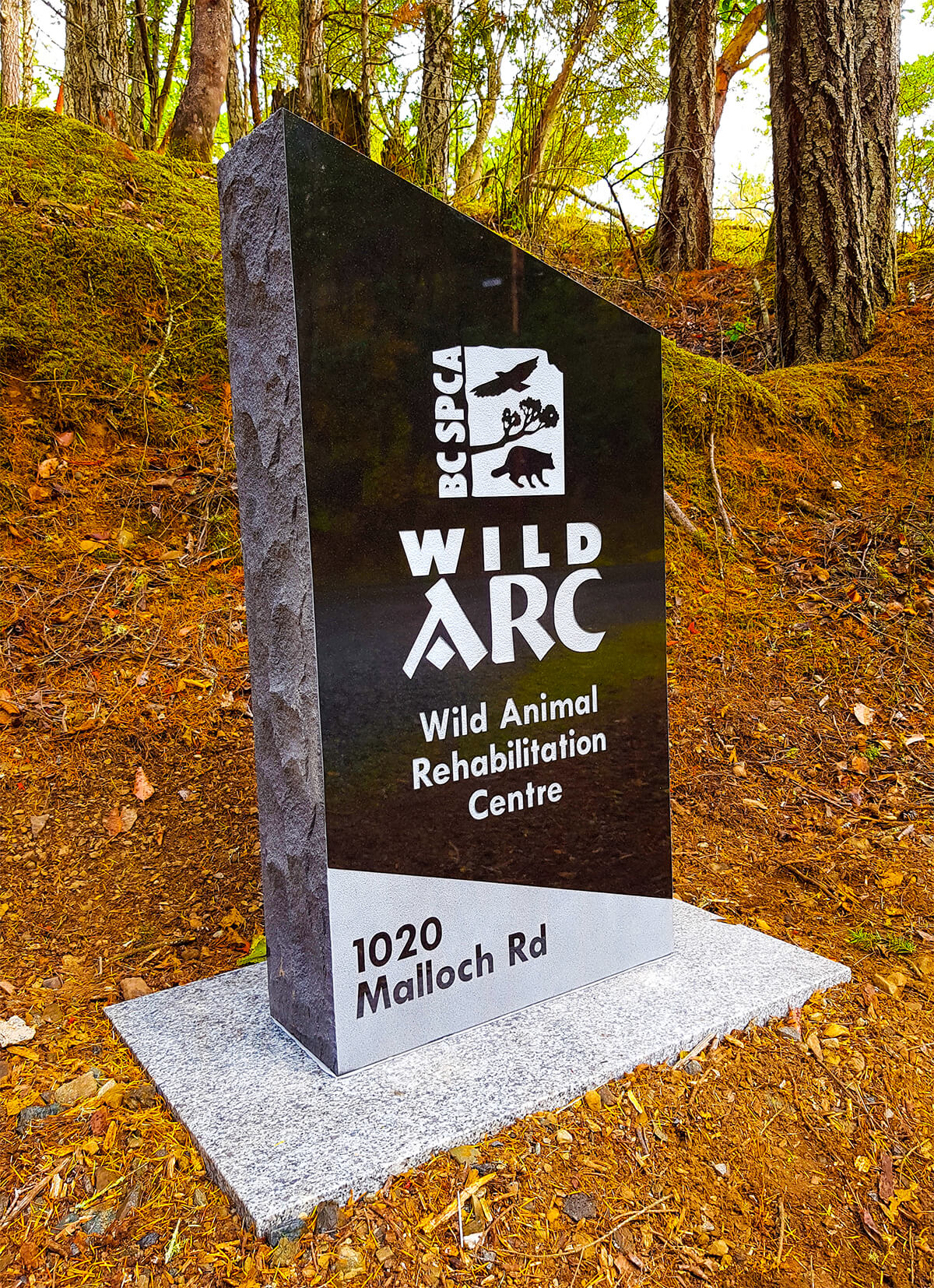 Custom Granite Sign For Local Organization
The above photo illustrates a custom granite sign for a wild animal rehabilitation organization for Vancouver Island. This unique 8-inch thick black granite sign stands out in its natural setting. Designed and engraved on Vancouver Island by Meadowlark Memorials.
Location:1020 Malloch Road
Photo Credit: Carl Hughes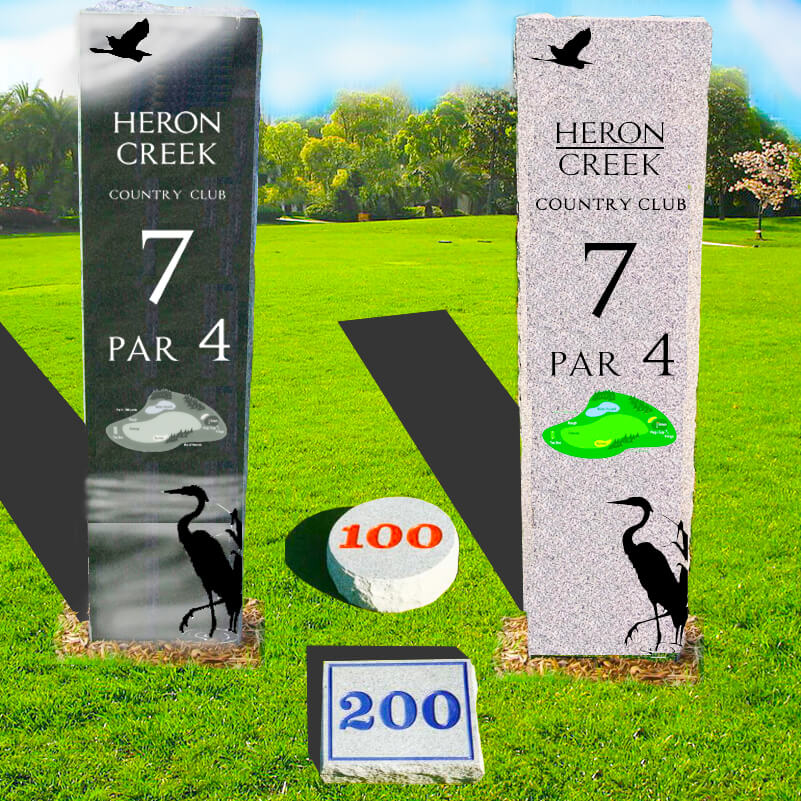 Golf Course Signage
Custom Golf Signage by Meadowlark Memorials
Our signs can rightfully represent your organization. All our signs are made to withstand weathering effects and feature a timeless design which conveys precise information. Here are some of the areas of custom golf signs we supply.
• Tee Signage
• Directional Signs
• Markers
• Practice Facility
• Street Signs
• Entrance & Interior Signs
For more information about our products or engraving service, please call (778) 679-9224.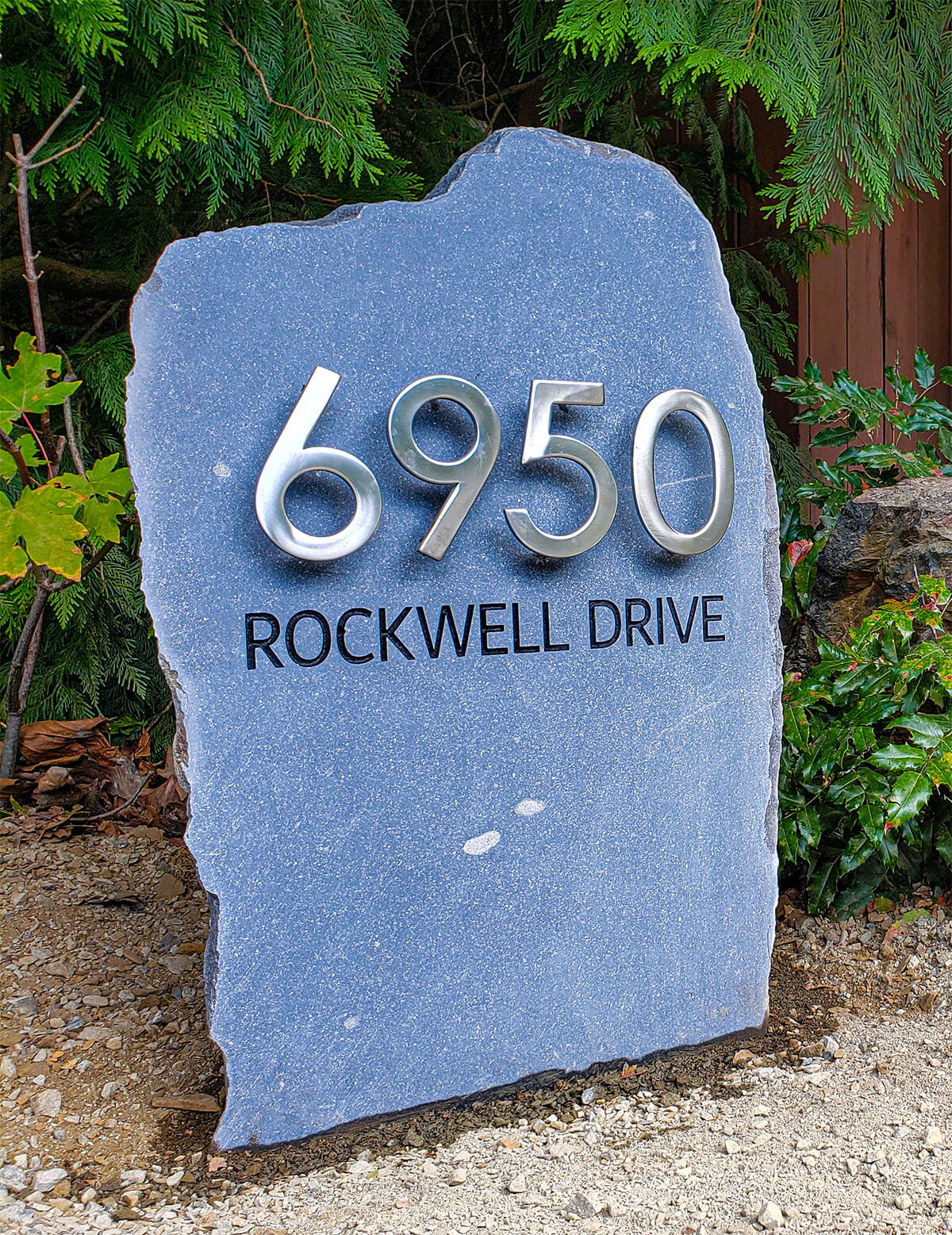 Reviews
Maria Gray, Nanaimo BC
It is with pleasure we submit this review for our beautiful Address Rock, Engraved by Carl Hughes of Meadowlark Memorials. From our first contact with Carl, the customer service we received we was amazing. He was professional, kind, attentive and very inclusive in choosing the design .
Carl was wonderful and very easy to work with you on our address rock, we are very pleased with the quality of the work and design. You delivered exactly what we asked for.
Still receiving wonderful comments on the beauty of the engraving on our rock.
Highly recommend you to our neighbors and friends.
Paul Smith, Langford BC
We use Meadowlark Memorials for all our Sandblasting and signs. Such a great company to deal with and always a pleasure.
Pet Memorials Victoria British Columbia
Pet Memorials
Paying tribute to our dearest pets has become custom to many pet owners around north America. Pet Memorials can be personalized with the pet's name, dates. Moreover, you can add a personal message, quote, or inscription, to the memorial as well.
In addition, black granite pet markers can be can hand etched with a favorite photo of your special companion. All etchings are hand etched by our local artist.
Pet memorials are not just limited to dogs and cats but can be made for horses or any other pet you care to memorialize. Pet Memorials are mostly made of granite. Materials such as basalt, sandstone may also be used to create garden style memorials.
Pet portraits can only be engraved on Black Granite.
For more information regarding our pet memorial products, contact Meadowlark Memorials at (778) 679 9224 and one of our trained staff will be happy to assist you with any questions you may have.
Pet Memorial stones and boulders can be made to a have hollow space inside for storing cremated remains
                                                                       Ideas for Pet Gravestone Inscription
You Made Our Family One
Our Beloved boy
Free to Roam
Unleashed
So, Loved and So Missed
Forever Missed
Forever in Our Thoughts
Always Remembered
Forever in Our Hearts
Always Loved and Remembered
Always in Our Hearts
Forever Loved, Never Forgotten
In Our Hearts
Much Loved
Forever Missed
Never Forgotten
My Best Buddy
My amazing Companion
Our Faithful and Loving Companion
Your Paw Prints Are on Our Hearts Forever
Our Best Pal
Beautiful Memories
My Best Friend and Loving Companion
Dearly Missed Forever Loved
Always in Our Hearts and mind
We Will Love You Forever
Missed but Never Forgotten
We Miss you so Much
You Are Here with us Always
"Our precious little champ"
"A gem forever"
"Forever in our hearts
Forever Remembered
And Always Missed"

"Your time was far too short; it was over before the start. But my precious little angel left behind, paw prints across my heart"

"Our hearts still ache in sorrow, and secret tears still flow, what it meant to lose my best friend, no one will ever know."
"Here lies a faithful friend and companion."
"Those we have held in our arms for a little while, we hold in our hearts forever and ever."